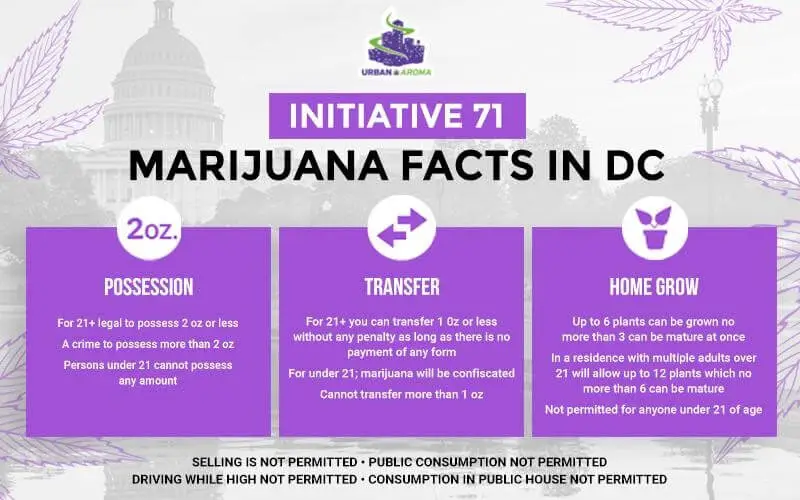 Asking a question such as "Is Weed Legal in DC?" is still too broad of a question to answer without being more specific, so we will cover 3 main facts you must know as a tourist when attempting to buy weed in D.C.
I'll do my best to keep it short, and hopefully, we end up with succinct, useful information.
I can't have my Bud buddies falling into an unfortunate sequence of events that lands them in handcuffs or worse, striking out on their quest for weed.
The 3 Facts About Legal Weed in D.C.
1. It is illegal to sell weed in D.C.
Yes, it's illegal, but anyone who has some spare bud laying around can gift you up to 2 ounces of D.C.'s finest.
2. It is illegal for you to purchase weed in the District of Columbia. But someone can still gift you some.
3. It's illegal to smoke it in public. You're only allowed to smoke it in the privacy of your home, private clubs, and events. If you're traveling, this could be a problem if you're not prepared.
Here's how to solve the issues.
1. Find a place to stay that allows you to use weed in their hotel or rental. There are many options for this in D.C. at the current time. They even have hotels dedicated to cannabis users and gift you weed for staying with them.
2. Find a gifting service. Leave it cannaheads to figure out a way to circumvent the issues. Gifting services offer you something else of value to purchase, and then they gift you X amount of weed as a thank you for buying their product or service.
There are many other issues to learn about before attempting to find and attain weed in D.C. I would suggest a local guide to buying weed in D.C. such as this one on Urban Aroma. These guides are usually put out by local dispensary and weed delivery directories and are easily found with a quick search.